Stake History
2020 New Stake Presidency
QUERÉTARO MÉXICO EL SOL STAKE: (November 29, 2020) President — Juan David Soriano Jimenez, 42, medical pathologist; succeeding Isaias Lozano Gaona; wife, Claudia Lizet de Soriano Gonzalez Peña. Counselors — Gabriel Santos Ruiz, 41, Zubex Industrial director of sustainability and innovation; wife, Ana Maria de Santos Ortiz Ferrusca. Jose Jeremias Toledo Galdamez, 48, property manager; wife, Ana Laura de Toledo Zepahua Nery.[1]
Oportunidades de Iglesia Centrada en el Hogar de México
Enseñamos que la verdadera religión comienza en el hogar: "Centrado en el hogar / Iglesia apoyada". Con ese fin, las familias pueden considerar los siguientes recursos y programas locales para fortalecer sus creencias y valores centrales:

1. Ven, Sígueme: - Estudio diario y semanal del evangelio familiar
2. Vanguard Asociación de Scouts: - Con actividades familiares, servicios, manualidades, excursiones y aventuras al aire libre apropiadas para la edad.Los beneficios de explorar son muchas, y hay muchas ideas de crecimiento personal para ayudar a su familia a seguir el nuevo Programa de Niños y Jóvenes de toda la Iglesia.
3. LIFE Currículum escolar: un programa de educación en el hogar basado en el evangelio SUD que se basa en las bases de las Escrituras, que le da al niño una idea de quién es y lo coloca en el camino de descubrir su misión divina. Se presenta en una rotación cronológica de cuatro años, integrando todas las áreas de estudio para crear una imagen clara de la historia de nuestro mundo.
4. Historia Familiar: Recursos para ayudarlo a explorar su árbol genealógico
Pioneros Mormones - 200+ historias de los primeros pioneros fieles de los Santos de los Últimos Días.
Familypedia - Ven a ayudar a construir la enciclopedia en línea de historia familiar más grande de México.

5. Recreación Local:
Mexico Scouting - Senderos al aire libre, campamentos, museos y otras atracciones familiares.
Pioneer Treks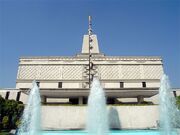 El Temple de Mexico City es la 26ª operación templo de La Iglesia de Jesucristo de los Santos de los Últimos Días (Church SUD) y el primero de 14 templos completados en México. Conocido por su exterior de inspiración maya altamente ornamentado, este templo es un hito aclamado en el noreste de la Ciudad de México, ubicado cerca del Bosque de Aragón, uno de los principales parques de la ciudad. Los terrenos del templo tienen forma de parque, con hermosos jardines y una encantadora fuente de agua. Varios otros edificios de la Iglesia comparten la "Manzana del Templo" (Temple Square), que incluye un centro de capacitación misional, un centro de estaca, un centro de alojamiento para mecenas y un centro informativo para visitantes, gratuito para el público. La pieza central del centro de visitantes es una reproducción suprema de la estatua de Christus de Thorvaldsen. Durante Navidad, los jardines están decorados con cientos de miles de luces en una exhibición festiva de la temporada.
Ver también
Referencias